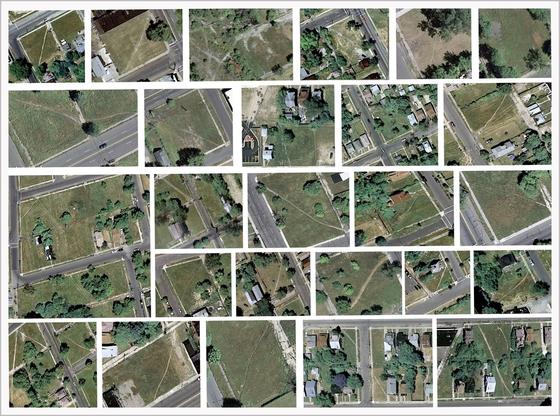 "This past winter, the snow stayed so long we almost forgot what the ground looked like. In Detroit, there is little money for plowing; after a big storm, the streets and sidewalks disappear for days. Soon new pathways emerge, side streets get dug out one car-width wide. Bootprints through parks veer far from the buried sidewalks. Without the city to tell him where to walk, the pilgrim who first sets out in fresh snowfall creates his own path. Others will likely follow, or forge their own paths as needed.
In the heart of summer, too, it becomes clear that the grid laid down by the ancient planners is now irrelevant. In vacant lots between neighborhoods and the attractions of thoroughfares, bus stops and liquor stores, well-worn paths stretch across hundreds of vacant lots. Gaston Bachelard called these les chemins du désir: pathways of desire. Paths that weren't designed but eroded casually away by individuals finding the shortest distance between where they are coming from and where they intend to go."
Using google maps I was able to find the shortcut across a part that I used to take to school.
From Sweet Jupiter via boingboing